Nancy Sexton talks to those involved in the career of Written Tycoon as he is crowned champion sire.
Iskander Racing had a problem. In Written Tycoon, the team knew they had a blazingly fast horse, one with the looks to go with his talent and an outcross pedigree that might stand him in good stead at stud.
Yet no sooner had they bought into the horse, then a problem with his wind reared its ugly head.
So for all that Written Tycoon had been a fast Group Two-winning two-year-old, stallion farms were understandably suspicious when the time came to send him to stud. And nor was it plain sailing once a home, Eliza Park Stud in Victoria, was secured, with connections having to resort to innovative means of bulking up his early books.
It is one of racing's great rags-to-riches stories; how a cheap, lower market stallion has defied all the odds to become one of Australia's leading sires.
Along the way, there have been 11 Group One winners and 42 stakes scorers, and today, a growing appreciation of the horse as a legitimate sire of sires.
Capping all that, however, is his place as the year's champion sire. Achieved with a total of $17 million, over $1.3 million ahead of Not A Single Doubt, it was a momentous season highlighted by the wins of Odeum and Ole Kirk in the Thousand and Caulfield Guineas, a double not achieved by a stallion since Sovereign Edition in 1976. Another top performer, Pippie, captured the Group One Moir Stakes.
All of which makes his homecoming to Victoria, to Yulong Stud, for this season all the more special. The stallion has spent the past year in the Hunter Valley as part of Arrowfield Stud's roster and in a high-profile move, was recently secured by Yulong to headline its burgeoning stallion roster. In return, Yulong has purchased an array of big names, among them the iconic mare Melody Belle, to support its champion sire at a career high fee of $165,000 (inc GST)  – a far cry from his days at $6,600.
Written Tycoon winning the 2005 Todman Stakes Picture: Bronwen Healy
Foaled in 2002 at Jan Clark's Daandine Pastoral in Queensland, Written Tycoon pays further credit to the former Queensland stallion Iglesia, a fast son of Last Tycoon who had won the Group Two Silver Slipper Stakes. Iglesia was just gaining industry respect as a reliable source of talented speedsters when he succumbed to laminitis at the age of 11, and Written Tycoon, from his $6,600 first crop, was one of five Group winners left behind by the stallion.
Written Tycoon's female pedigree is similarly speed orientated given his dam, Party Miss, won four times at up to 1200 metres and is from the further family of champion sprinter Yell. Champion two-year-old Microphone and Group One winner Holler would flesh the pedigree out further in later years.
Such a background, along with the family's association to Bob Ingham's Woodlands Stud, piqued the attention of trainer Grahame Begg when Clark offered the colt at the 2004 Magic Millions Gold Coast Yearling Sale.
"I knew his father, Iglesia, very well," he says. "He was a very good galloper. I remember he broke the track record one day at Flemington, he went up the 1200 metres in 1.07.16 [a record that still stands].
"Written Tycoon was bred by a very good Queensland farm, Daandine, and he came from a good Jack and Bob Ingham family – when I go to the sales, I go looking for those good old families and I love to buy out of them.
"And he was a lovely individual, a good, correct horse with good length."
On a bid of $50,000, Begg secured the youngster and was immediately impressed.
Campaigned initially by Written Bloodstock, he won two races in five starts at two, starting with a brilliant debut victory at Randwick prior to the Todman Stakes, in which he sealed matters with a decisive turn of foot to shoot through a gap and win going away from Domesday. That win set him up for a crack at the Golden Slipper, only for his chance to be compromised by a wide draw.
"From the first day, he showed exceptional ability," says Begg. 
"He was a natural speed horse. He won the Todman well and then got drawn very wide in the Golden Slipper and never got into the race [finished 11th]. Snitzel was actually in that same Slipper and Written Tycoon finished in front of him – it just goes to show, you don't need to win a Slipper to become a top stallion!
"He went for a spell after the Champagne Stakes [when unplaced] and when he came back, he had gone in his wind. And we never got him back to the same form."
Having returned with a second in the Group Three San Domenico Stakes, Written Tycoon was preparing for a tilt at the Ascot Vale Stakes when Begg was informed that he would lose the horses belonging to Written Bloodstock. Also among the group, which were on lease from Hutchins Thoroughbreds, was Group One winner Our Egyptian Raine.
Written Bloodstock, a bloodstock group headed by Larry King and Mark Peters, later folded and its bloodstock holdings dispersed. Written Tycoon was understandably one of the star attractions, changing hands to Sheriff Iskander's Iskander Racing and Breeding in a private transaction that September.
The acquisition of the horse remains bright in the memory of agent Suman Hedge, a key member of Iskander's team.
"My first memory of Written Tycoon was when he was winning as a two-year-old," he says. "He showed really good promise at an early age for Grahame Begg and then won the Todman.
"I remember John O'Shea saying that if we ever had the chance to buy a stallion prospect, then to look at Written Tycoon, as in his view he was the fastest horse then based at Randwick. That stuck in my mind and we put together a group to buy him."
Sent to O'Shea, Written Tycoon was operated on for a 'lazy larynx' after running down the field in the Group One Ascot Vale Stakes and connections remained hopeful that the procedure would help lead to a productive campaign. A brilliant barrier trial at Rosehill – regarded by some observers as the best trial seen in 20 years.- as part of his return in January 2006 lent confidence that he was on the way back but his problems became ultimately too much to overcome and he never won again.
"As a spring three-year-old, we had high hopes for him," says Hedge. "He was due to run in the Coolmore Stud Stakes but went in the wind. We did an operation on him and brought him back again and he ran well [when second in the Listed Satellite Stakes] but it went again, and we were pretty much stuck at that point."
Connections were of the firm opinion that Written Tycoon was a Group One calibre of sprinter. However, persuading stallion farms to subscribe to that point of view was a challenge.
Eliza Park Stud ultimately signed a deal and at a fee of $8,250, he went on to cover 118 mares in his first season – a number that masks the difficulties in securing mares to the horse.
"I must have tried about 20 farms to stand him," says Hedge. "Eventually we were able to place him at Eliza Park. Getting his book full was very difficult. We had bought a lot of mares to go to him – there were probably about 60 of ours in that first book. And we had to do a lot of different deals, like three for $10,000, to get in the numbers.
"I remember trading nominations against God's Own, another horse we had syndicated. He also stood at Eliza Park, but at $33,000, and we had this offer where you could book in a mare to God's Own and get two to Written Tycoon for free. And still people wouldn't take it!
"We knew Written Tycoon was very fast and he's very good-looking – we just needed to get the numbers to him."
Written Tycoon's fee dropped to just $6,600 for his third and fourth seasons, which came amid a well-publicised ownership dispute that saw him actually head to auction at the 2009 Inglis Great Southern Sale. There he was knocked down for a sale record of $625,000 to David O'Callaghan and returned to Eliza Park Stud.
Once his progeny hit the track, however, the tide turned.
A first crop of 89 foals came to include 56 winners and four stakes scorers. Five of the 12 to run at two won and with earnings of $644,700 achieved on the track that year, he ended the 2010-11 season as Australia's champion first-crop sire over Ad Valorem.
"I remember early on that he was getting a lot of trial winners," says Hedge. "Then he got a good flag bearer called Masthead, who ran third in the Blue Diamond Stakes."
Hedge fittingly purchased Written Tycoon's first stakes winner Trump, a colt described as 'the spitting image of his sire' who set the ball rolling by landing the Group Three Gunsynd Classic before his sale to Hong Kong.
That first crop would also come to include Group Two winner Howmuchdoyouloveme.
The 2017 Group One Tattersall's Tiara winner Tycoon Tara was the highlight of an 88-strong third crop while fellow Group ONe winner Music Magnate, winner of the 2016 Doomben 10,000, followed in his fourth.
That pair of Group One winners were bred when Written Tycoon stood for a low of $6,600 and provided a very clear indication of the stallion's ability to upgrade his mares.
By the time they were plying their trade, however, another colourful chapter had been added to the Written Tycoon story.
In 2012, Eliza Park sent him to stand at its Queensland division. With his achievement as champion first-crop sire fresh in the bag, his fee was set at $15,400. Yet it wasn't an entirely popular move as illustrated by a book of 107 mares, down from 152 the year before.
His breeder Jan Clark, however, was among his supporters and fittingly, the resulting foal out of her Fusaichi Pegasus mare Kitalpha turned out to be Capitalist, the champion two-year-old colt of 2016 and the stallion's first Group One winner when successful in the Golden Slipper. Nor was he the only star to emerge out of that Queensland stint, with other representatives La Luna Rossa and Tyzone latterly successful in the Manawatu Sires' Produce Stakes and Stradbroke Handicap.
 Booker winning the Oakleigh Plate Picture: Racing and Sports
Written Tycoon was on his travels again in 2013, this time back to Victoria at Woodside Park Stud, which had bought out Eliza Park's equity in the stallion for an undisclosed but seemingly hefty sum.
It was at this point that some stability was finally added to Written Tycoon's stud career. He went on to spend seven seasons at Woodside Park while it was under the management of Mark Rowsthorn, rising from a fee of $13,750 to $110,000 in the process.
It was at Woodside Park that Written By, a champion two-year-old for Grahame Begg, was conceived alongside the Group One winners Booker (won 2019 Oakleigh Plate), Despatch (2019 Goodwood Handicap), Odeum (2021 Thousand Guineas), Ole Kirk (2021 Caulfield Guineas and Golden Rose Stakes) and Pippie (2020 Moir Stakes and Oakleigh Plate).
It's a list that provides a snapshot of the eclectic nature of Written Tycoon's stud career. Yet one aspect remains clear; his ability to upgrade his mares.
"After he was champion first season sire, the market was still very dubious about him," says Hedge. "It took years for the market to respect him. It was really hard, he's really had to make his own way."
So what makes a good Written Tycoon?
"They're just fast," says Hedge. "They come in different shapes and sizes, he's not colour or sex dominant. He's a tall, gentle natured horse but they've got that bit of toughness to them. He puts a lot of precocity and speed into his stock although he doesn't just get two-year-olds – a lot of his horses race on."
He adds: "It really helped him when Woodside Park became a shareholder, and Sheriff has been very supportive throughout too."
For Begg, the Written Tycoon story came full circle with the success of Written By, bred by his father Neville out of a $3,000 mare. The hardy colt swept the Group One Blue Diamond, Pago Pago and Blue Diamond Prelude Stakes and ran fourth in the Golden Slipper Stakes during an outstanding campaign at two in 2018. He also won the Group Three Blue Sapphire Stakes at three and now stands at Widden Stud.
"Written Tycoon started off on an extremely low base and it took him a long time to get established even though he was getting a lot of winners," recalls Begg. "He's on that upward trajectory now and now you can see him getting more milers, not just speed horses.
"When Written By's dam, Yau Chin, went to Written Tycoon, I think he stood for $18,000. Written By was a headstrong character – he could be quite troublesome at the barriers and we had to iron out those problems – but he was really fast and precocious."
Begg points to the durability of Written Tycoon's stock as an element to his success but also has another tried and test theory.
"He gets good durable horses and one thing he does do is upgrade his mares," he says.
"Interestingly, Written Tycoon was a very clean coated horse and Written By was the same – they never grow a winter coat. When I go to the sales, I now look for that in his progeny. In fact, I have a good filly right now now called Dosh [by Written Tycoon's son Rich Enuff] who is the same. She's a rich, clean coated filly."
Another aspect to Written Tycoon is his outcross pedigree. The last commercial link to Last Tycoon, he is able to click with a wide variety of mares, particularly Danehill; of his 42 stakes winners, 15 are out of Danehill line mares and include the Group One winners Music Magnate (out of a mare by Danehill Dancer) and Booker (Flying Spur). Capitalist also boasts a second dam by Danehill.
"For a long time, the best stats were on the cross with Honours List – just because we had him at the same time in those early years," says Hedge. "He was a Danehill horse we stood at Eliza Park and so we had a lot of his daughters and Written Tycoon ended up covering – and upgrading – many of them!
"But yes, clearly he reacts very well to Danehill, which is important as that is obviously such a dominant sire line."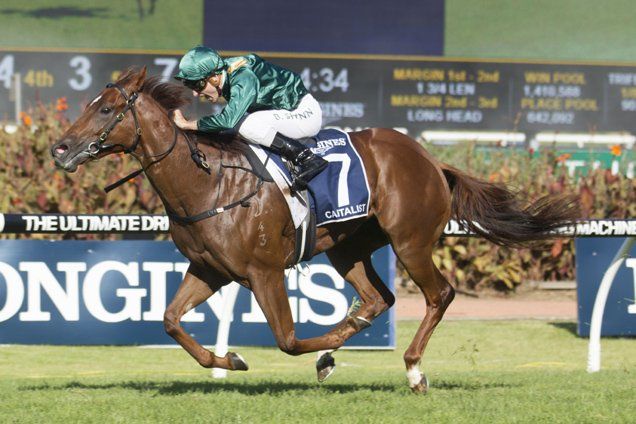 Capitalist winning the Longines Golden Slipper Picture: Racing and Sports
The catalyst in bringing Written Tycoon to global attention was arguably Capitalist. Purchased for $165,000 at Magic Millions yearling by James Harron, the colt dominated the two-year-old scene in 2015-16 as winner of the Golden Slipper Stakes, Wyong Magic Millions 2YO Classic, Magic Millions 2YO Classic and Breeders' Plate for earnings of $3,508,700, a figure that helped Written Tycoon end 2016 as a top three Australian sire.
Now Capitalist is fulfilling a similar role in Written Tycoon's legacy as a sire of sires.
The Newgate Stud stallion has made an outstanding start to his stud career, so much so that he leads the way among his contemporaries as the sire of first-crop 21 winners. In a normal year, a figure of $3.27 million would also be enough to reign as first-crop champion by earnings, and indeed it makes him a leading two-year-old sire overall. However, fellow Newgate Stud stallion Extreme Choice narrowly had his measure.
Still, Capitalist boasts an impressive record of four stakes winners, among them the Champagne Stakes hero Captivant, and 11 stakes horses overall. As a result, he will stand for $99,000 in 2021.
Capitalist isn't the only son of Written Tycoon firing in the winners, however.
Newgate also stands Group Two-winning two-year-old Winning Rupert, whose tally of 11 winners places him behind only Capitalist and Star Turn on the first-crop sires' list.
Woodside Park Stud appropriately also has its own son in Group Two winner Rich Enuff, sire of the aforementioned Dosh. Begg saddled Dosh to win last season's Group Three Ottawa Stakes and has high hopes for the filly's three-year-old campaign.
"She's pretty good," he says. "She went for a break and hopefully she'll come back and win more Group races for us. As with all the line, she's very precocious."
Their success naturally bodes well for the younger sons coming through, notably the aforementioned Written By, whose first crop are yearlings, Ole Kirk, who debuts at Vinery for a fee of $55,000, and Schillaci Stakes winner Dirty Work, who is standing his first season for Spendthrift at $19,800.
The Best Is Still To Come?
Written Tycoon's first $88,000 crop of 130 foals are rising three and include 16 two-year-old winners led by Enthaar, the brilliant winner of the Group Three Gimcrack Stakes, and Finance Tycoon, successful in the Group 3 Maribyrnong Plate.
Commercial appreciation is naturally also sharply on the rise, with the stallion firing in yearling averages in excess of $270,000 at both the Inglis Australian Easter Yearling Sale and Magic Millions Gold Coast Yearling Sale every year since 2018.
Matters reached new heights last season with the sale of a $1.2 million colt out of Taqaseem, bought by Spendthrift Australia at Magic Millions, and a pair of $1.1 million colts at Inglis Easter to bring his average for the year to $332,727.
In 2020, meanwhile, it was announced that Arrowfield Stud were joining forces with Woodside Park to bring Written Tycoon to the Hunter Valley. In return, the stallion received an exceptional book of 199 mares at a fee of $77,000.
Yet he is Victoria's horse and when the opportunity to buy into him arose, Yuesheng Zhang's Yulong Stud were quick to strike; Woodside Park stepped away, Yulong bought in and the stallion returned to Victoria to sit atop a roster that is burning with ambition. His fee has been set at $165,000.
"We were shareholders in the horse and the opportunity came up for us to secure him," explains Sam Fairgray, Yulong's chief operation officer. "It was an easy route in.
"Obviously for him to return to Victoria is fantastic. He'll have a book of around 150 mares. The reaction has been very positive. Breeders from New South Wales are sending mares and Mr Zhang has collected some lovely mares over the past few years that will go to him."
The lengths to which his current connections has stretched to ensure a star-studded 2021 book was well on show at the recent breeding stock sales. At the Magic Millions Gold Coast National Broodmare Sale, for instance, the Written Tycoon Syndicate outlaid $16.46 million on 39 mares, including $2.6 million on 14-time Group One winner Melody Belle and $1.5 million on Group Two winner Greysful Glamour.
Dual Group One winner In Her Time and Extremely, the dam of Extreme Choice, are also among his book.
"Standing Written Tycoon has allowed Mr Zhang the opportunity to go out and secure some of these beautiful mares and we'll be sending 35 to 40 of our own," says Fairgray. "It would be nice to think and one or two of the colts that we breed may end up coming back here to stand."
He adds: "When you look at his stats, he gets two-year-olds and older horses, colts and fillies, over 1000 metres and over 2000 metres. He's a really durable stallion. And the other aspect to him is how well he works with Danehill.
"The mares he's had in the past three years have been unreal. Arrowfield supported him with some lovely mares last year. So there's a lot of nice work in the pipeline as well.
"He wasn't given all those beautiful blue hens in the early years but now he's ending up with them. He's such a beautiful horse to do anything with and he passes on those traits. You can see why he has been so successful as they take everything in their stride and don't stress about anything."
Yulong's commitment to Victoria has helped breathe further life into its industry. Home to 280 mares, Yulong will stand six stallions this season, including top two-year-olds Lucky Vega and Tagaloa, both of whom are new for 2021.
More immediately though, its fortunes will be driven by Written Tycoon. Now aged 19, he is entering the twilight of his stud career yet with such great momentum behind him, his best days as a stallion are surely still in front of him. As it is, he has surpassed every expectation while helping a number of breeders, especially some of the smaller outfits, along the way.
"It's very exciting," says Hedge. "He's never had a book before like the one Arrowfield put together and this year's book is going to be very good.
"Obviously you have to believe in things that you are associated with but in my heart of hearts, I thought it would be great if he could end up being a $20,000 – $30,000 stallion. So for him to achieve what he's done has been amazing. And he's really jumped so many hurdles to do all that.
"He has helped so many small breeders. He's a man of the people, as it were."
By Racing & Sports
https://www.racingandsports.com/news/bloodstock/australia/2021-08-02/a-rags-to-riches-story/555888