John Tapp September 21, 2021
It's unlikely there was a more contented horse trainer in Australia on Sunday morning than Grahame Begg. Not only had his talented five year old Nonconformist scored an emphatic win in the MRC Foundation Cup on his home track, but in doing so secured a ballot exemption for the $5,000,000 Caulfield Cup on October 16th. The icing on the cake came on Sunday morning when Grahame arrived at his Caulfield stables to find a very happy horse with ice cool legs and an empty feed bin.
Twenty eight years have passed since the enigmatic Telesto became Grahame's first Caulfield Cup runner. Coming off a second placing to Golden Sword in the AJC Epsom, Telesto came from a mile back to finish 6th just over a length from the winner Fraar. Interference on the home turn may have cost him a place.
Exactly a year later the Randwick based trainer had another crack at the time honoured event with Telesto's year younger full brother Fraternity. The gelding enjoyed a trouble free run before finishing tenth, some 7 lengths from the winner Paris Lane.
Eighteen years went by before Grahame felt he had another horse suited by the testing 2400m at Caulfield. It was the well credentialed Sydney mare Secret Admirer who may have been ridden just a little too close before finishing worse than midfield in the Cup won by the remarkable Dunaden.
His 2021 Caulfield Cup runner is a homebred from Victoria's famous Mornington Peninsula. "I began my Victorian training career in 2016 with just six horses," said Grahame. "Jonathan Munz very kindly invited me to set up shop at his world class Mt. Eliza training operation. I was delighted when local horse enthusiast Danielle Henwood asked me to train a Rebel Raider colt she and her family had bred and raised. By the time he was ready to race, Danielle had formed an ownership group between family members and friends. She is now a member of our Mt. Eliza team and regularly helps out in the stables before dashing off to her day job."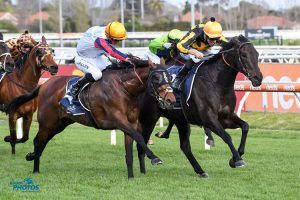 Danielle's dream comes true! Her homebred Nonconformist qualified for the Caulfield Cup with his win on Saturday – courtesy Racing Photos.
Perhaps Danielle has inherited the racing genes from her late grandfather, legendary trainer Theo Howe who died in 2007. Theo is best remembered for his success with jumpers but he did train a top class flat horse called King Phoenix who won two Gr 1's and ran second in a couple of others in the 1980's.
Danielle and her co owners gave Grahame carte blanche in the training and management of Nonconformist. The multiple Gr 1 winning trainer could see from the outset the son of Rebel Raider was going to take time, and lots of it. "Although he was always a big framed horse he simply wasn't robust," said Grahame. "We just backed off whenever he looked as though he wasn't coping."
Nonconformist was a November three year old by the time he made his debut, finishing third in his first two outings at Racing.Com Park and Caulfield. Following a "freshen up" he put together an exciting sequence of four runs which clearly stamped his potential. He won a maiden at Racing.Com Park followed by an open 3YO at Caulfield. He then made a giant leap to Gr 2 company finishing second to Adelaide Ace in the Autumn Classic of 1800m. Three weeks later he avenged that defeat when he trounced Adelaide Ace by 3.3 lengths in the Gr 2 Alister Clark over 2040 metres. Predictably his connections were well satisfied as he headed for the spelling paddock.
Nonconformist wasn't seen for five months. On resuming he finished a pleasing enough third in an open race at Caulfield, but his preparation was abruptly halted a week or so later when he appeared to be showing the symptoms of colic. "He was a pretty sick horse for several days and had some worrying temperature spikes," said Grahame. "Finally the vets diagnosed a mild bout of peritonitis which thankfully responded quickly to treatment."
Nonconformist was back at the races in five weeks but raced a touch "flat" first up in a 1700m open race at Caulfield. He was faultless over the next couple of weeks and gave lie to his previous run when he beat Gr 1 winner Harlem in the Gr 3 Coongy Cup at Caulfield. He took the quantum leap to Gr 1 company at his next run and wasn't disgraced when unplaced, but only 3.2 lengths from the winner in the Kennedy Cantala Stakes at Flemington. The spelling paddock beckoned.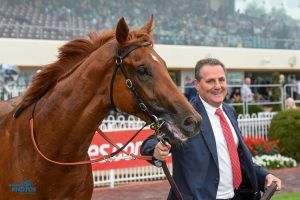 Grahame with his brilliant colt Written By after a thrilling Blue Diamond win in 2018 – courtesy Racing Photos.
He had four runs in his autumn preparation this year, all at stakes level with three of them from wide gates. He ran third in the Carlyon Cup, fifth in the Peter Young, fifth in the Australian Cup after a horror run and second in the Mornington Cup in which he was disadvantaged by a slow speed.
Grahame was confident the gelding would show his best form as a spring 5 year old, and at this point in time his prediction is right on the mark. Nonconformist finished just behind the placegetters in the Lawrence Stakes and Feehan Stakes after chequered runs, and looked beautifully suited on Saturday with the step up to 2000m.
His regular pilot Jordan Childs gave him a perfect run midfield one horse off the fence to the turn and presented at exactly the right moment on straightening up. He swept past No Effort to establish a break at the 200m and clung on tenaciously to hold out the strong finishing Delphi by a short head with Tralee Rose third. Grahame was thrilled to supply young Childs with such an important win at a sensitive time in the young jockey's career.
"He's not long back from a five month absence following a Moonee Valley fall in February," said Grahame. "His shoulder injury required delicate surgery and intensive rehabilitation. Saturday's win is exactly what he needed on the comeback trail. Jordan and I have a great association which began with Written By in 2018. He rode the colt in all of his six wins including the Blue Diamond Stakes and handled the pressure like a seasoned jockey."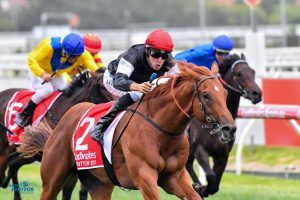 Written By and Jordan Childs combined to win the 2018 Blue Diamond. This win launched Grahame's Victorian training career – courtesy Racing Photos.
Grahame approaches the Victorian spring carnival with some reasonable firepower at his disposal. Apart from his fully qualified Caulfield Cup contender, the master trainer will campaign a couple of members of the fairer sex. He's eagerly anticipating the upcoming campaigns of three year old filly Dosh, and four year old mare Butter Chicken. Dosh has been the beneficiary of the trademark Begg patience and has developed into a very powerful athlete. "She ran a cracking third in the Cap D'Antibes first up, and can only improve," says Grahame. "I'm setting her a pretty tough task by tackling the open Schillaci Stakes on October 9th, but she'll have only 51kgs and will run a bold race."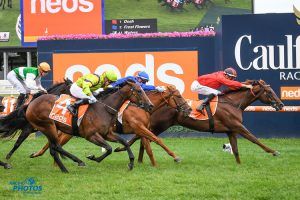 Dosh wins the Blue Diamond Fillies Preview 26/01/2018 – courtesy Racing Photos.
Butter Chicken is owned by Jonathan Munz who has given this slow maturing Savabeel mare a ton of time. Although a four year old she's raced just four times for one win in a 1600m maiden at Racing.Com Park. She did however stamp her class with a second to Parure earlier this year in the Gr 2 Autumn Classic. "She was held up for a run when unplaced in the Let's Elope Stakes recently, and should have finished closer," said Grahame. "We're going to back our judgement by running her in the Gr 2 Stocks Stakes at Moonee Valley on Friday night. She's been given every chance and it's all ahead of her now."
Grahame currently has twenty horses stabled at Caulfield, and another ten at Mt. Eliza. He lives with wife Sue at Mornington and commutes every day. Like several longtime Caulfield trainers he's saddened by the imminent closure of the precinct. "When you look at the legendary trainers and great horses who've passed through this place you can't help but feel nostalgic," he said. "It marks the end of a special piece of Australian racing history. As soon as the Flemington carnival is over I'll be relocating to the new training centre at Cranbourne."
Sixty year old Grahame Begg was groomed for his current role from a very early age. He was a key figure at Randwick's Baramul Lodge during his father's golden years in the Sydney training ranks. During that era Neville Begg was runner up to Tommy Smith in nine trainer's premierships. When Neville opted to accept a Hong Kong contract in 1990, twenty nine year old Grahame was more than ready for the challenge. Over the next twenty four years he produced a regular flow of winners including fourteen at Gr 1 level, sixteen at Gr 2, thirteen at Gr 3 and more than seventy stakes winners overall.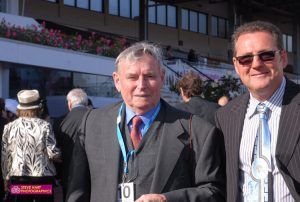 Grahame and his father Neville Begg at a Sydney race meeting. They still talk on a daily basis – courtesy Steve Hart Photographics.
He surprised many owners and fellow trainers in 2014 when he announced his departure from the Sydney racing scene. He confessed that the emergence of some massive training operations had seen his numbers dwindle, while ever increasing costs had rendered his operation inviable. Grahame expressed his intention to take a lengthy break from racing, but hinted at the likelihood of a return in a different environment.
Eighteen months later, the high profile horseman turned up in Melbourne. He was concerned when unable to secure stables at Flemington or Caulfield, and was very grateful to receive an offer from Jonathan Munz to avail himself of the magnificent facilities at Mt. Eliza. Grahame had taken a strong liking to Melbourne racing when he successfully campaigned the dual Gr 1 winner All Silent in the southern state in the 2008/2009 season. "I'd had Melbourne in the back of my mind for a long time before finally making the move," he said.
This man has absolutely nothing to prove. He was filling up water buckets before and after school more than fifty years ago. From early childhood he relished the opportunity to soak up the knowledge imparted by his famous father. As stable foreman at Baramul Lodge he learned the finer points of horse management from a master of the trade. Given the opportunity at age 29, he proved that the years of learning hadn't been wasted.
He looks back with satisfaction on individual training highlights like a Doomben Cup with Eye Of The Sky, a Thousand Guineas with Whisked, a George Ryder and Chipping Norton Stakes with Telesto, a Spring Champion Stakes with Fraternity, an Emirates Stakes with Bonanova, an AJC Oaks with Mahaya, two Hong Kong International Bowls with Monopolise, a Randwick Guineas with Ilovethiscity, an Epsom and a Flight Stakes with Secret Admirer just to name a few.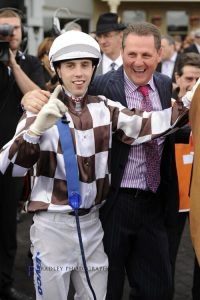 Grahame with Brenton Avdulla after Secret Admirer's win in the 2011 Epsom – courtesy Bradley Photographers.
Grahame would never wish to appear greedy but wouldn't mind adding a Caulfield Cup to his distinguished CV. Preferably this year's Caulfield Cup.
(Banner image – Jordan Childs gets Nonconformist home narrowly in Saturdays Foundation Cup – courtesy Racing Photos.)
Article courtesy of https://www.johntapp.racing