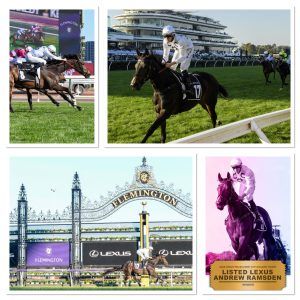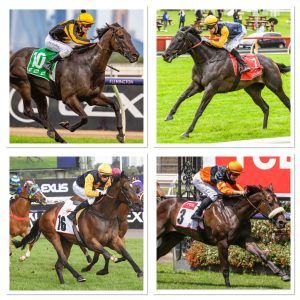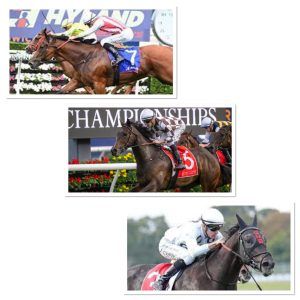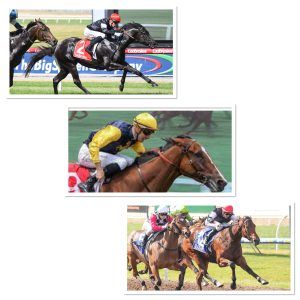 We would like to thank our clients, both old and new who have supported our stable throughout the past racing year. Also, thank you to our great team who do the hard yards behind the scenes. We also welcomed Chris Hyland to the team as Assistant Trainer who brings a wealth of experience to our stable.
We were excited to get "Written By's" younger ½ sister "C'est Magique" to the races where she was able to emulate her brother in winning at her first start in a race. After her maiden win at Pakenham she gained black type in finishing second in the Listed Cap D'Antibes up the straight at Flemington.
She capped off her first racing preparation with a slashing second placing in the Group 1 Coolmore Stud Stakes at Flemington. Unfortunately, a virus put a halt to her Autumn campaign, but she is back, bigger and better and ready to tackle the Spring.
"Cardinal Gem" continued on from the previous racing season with a third at Caulfield before winning at Flemington. He then took the next step up to win the Listed Weekend Hussler at Caulfield.
He earned a trip to Sydney to run in the 10 million dollar Golden Eagle where he ran 10th earning $75,000 for connections. Another second placing at Flemington before he again won at Stakes level taking out the Group 3 Vic Handicap at Sandown. Then Carlos as he is affectionately known did it again, winning the Listed Anniversary Vase at Sandown. He travelled to Brisbane where he finished 3rd in the Group 3 BRC Sprint, beaten just under a length. He then gained a start in the Group 1 Stradbroke Handicap. Things didn't work out for him in the race, but he certainly gave his large group of owners a huge thrill to have a runner in a 3-million-dollar Group 1 race. He is still sunning himself in Queensland and will head back to Victoria in the coming weeks.
Our big handsome sprinter "Katsu" resumed in his second preparation as a gelding where he won at Sale, Bendigo, Sale again before winning at Sandown. He then finished 3rd in the Listed Bel Esprit at Sandown and 2nd at Caulfield. He brought his prizemoney to just under $200,000 for this preparation. He is a work in progress, and we look forward to having him back after his break.
We would like to take this opportunity to express our condolences to the family and friends of Grant Griffiths, part owner of Katsu who sadly lost his long battle with illness this month.
At her third start back from a spell "Lunar Flare" won the Group 3 Bart Cummings at Flemington which gave her a golden ticket into the Melbourne Cup. The followed a 2nd place in the Group 2 Moonee Valley Gold Cup (the race she won the previous year).
Unfortunately, it wasn't to be as a Vet inspection ruled her out of the Cup on the morning of the great race.
After her spell she raced in the Group 2 Blamey Stakes & Group 1 Australian Cup where she ran well in both races. A Group 3 third in the Easter Cup at Sandown followed.
She then took her place in the Listed Andrew Ramsden at Flemington where she blew the field away, winning by 5.5 lengths. She now has another Golden ticket into the race that stops a nation.
She has had quite the star treatment flying up to Queensland along with our Winter carnival contenders where she enjoyed the beautiful winter sunshine. Back in the stable now we can dream again of the first Tuesday in November.
On debut "Magic Time" made light work of her opposition to score by 5 lengths at Pakenham. Her next assignment was the Listed Amanda Elliott at Flemington which she won, having the honour of being Sire Hellbent's first Stakes winner.
She headed to Sydney for the Autumn where she won the Group 3 P.J.Bell Stakes on a very heavy track at Randwick and finish 3rd in the Group 3 James Carr Stakes also at Randwick. It was great to see the Muir colours again in the Group winners circle reviving memories of "Secret Admirer" who carried them through many great Group performances.
"Nonconformist" finished 10th in his second Caulfield Cup, beaten just under 2.8 lengths after travelling wide throughout.
After a well earned break, he returned in slashing style winning the Group 2 Blamey Stakes at Flemington by over 2 lengths. After running 4th in his second attempt in the Listed Mornington Cup he travelled to Brisbane.
He finished back in the field in the Doomben Cup and then he got his preferred ground at Eagle Farm to finish 2nd place in the Group 2 Q22. This second placing took this homebred's earnings over the 2.2-million-dollar mark.
We look forward to him hopefully making it to another Caulfield Cup, which would make it three in a row.
"Vespertine" after already having a Group 3 second placing under her belt took out the Listed MSS Security on Melbourne Cup Day. This gave us some consolation after the scratching of Lunar Flare.
She followed up this win with two fourths in the Group 3 Bellmaine at Sandown & also the Group 3 Tressady at Flemington. She is currently enjoying a break in Queensland.
"Rose Quartz" gained a valuable Listed placing, running second in the Doveton Stakes at Caulfield. Then followed a 4th in the Listed Kensington Stakes at Flemington, 3rd in the Listed Christmas Stakes at Sandown and 2nd place in the Group 3 Standish Handicap at Flemington. We are sure a Black Type win is not far away for this Written Tycoon mare.
Coming down from NSW "Maharba" had his first start for us at Flemington where he was an impressive winner of the Listed Talindert Stakes. This earned him a trip to Sydney for the Autumn. He finished 2nd in the Group 3 Pago Pago, beaten just under 2 lengths by the eventual Golden Slipper winner Shinzo. He finished 6th in the Group 1 Sires Produce where he wasn't suited on the heavy 9 track at Randwick.
We had a fantastic day on the 4th of March with a 2 state Group 2 double with "Nonconformist "winning the Blamey Stakes in Victoria and "Passive Aggressive" winning the Group 2 Challenge Stakes at Randwick beating Eduardo by the barest of margins and Giga Kick finishing in third.
She will head to the breeding barn this season with a record of 8 starts for 5 wins, 2 at Stakes level.
City winners-Victoria
Niccolite Sandown
Cardinal Gem Flemington
Lunar Flare Flemington (Group 3-Bart Cummings)
Cardinal Gem Caulfield (Listed-Weekend Hussler)
Vespertine Flemington (Listed-MSS Security)
Magic Time Flemington (Listed-Amanda Elliott)
Devil's Fiddle Moonee Valley
Ebony King Sandown
Tick Tock Lady Sandown
British Columbia Sandown
Tick Tock Lady Moonee Valley
Maharba Flemington (Listed-Talindert)
Nonconformist Flemington (Group 2-Blamey)
Ebony King Sandown
Rivaport Sandown
Cardinal Gem Sandown (Group 3-Vic Hcp)
Katsu Sandown
Cardinal Gem Sandown (Listed-Anniversary Vase)
British Columbia Sandown
Lunar Flare Flemington (Listed-Andrew Ramsden Stakes)
City winners-NSW
Passive Aggressive Randwick (Group 2-Challenge Stakes)
Magic Time Randwick (Group 3-P.J.Bell Stakes)
Provincial winners
C'est Magique Pakenham
Katsu Sale
Katsu Bendigo
Magic Time Pakenham
Scottish Gold Geelong
Silver Up Bendigo
Pride Of Galway Mornington
Tolpuddle Geelong
Marigny Werribee
Son Of Solly Yarra Valley
Miss Subtly Bendigo
Nixie Kyneton
Katsu Sale
Son Of Solly Cranbourne
Suruga Bay Cranbourne
Ebony King Geelong
Silver Up Pakenham
Carina Queen Pakenham
Niccolite Werribee
Statistics for the year
Victoria City
20 wins 15 seconds 9 thirds
Victoria Provincial
19 wins 18 seconds 13 thirds
NSW City
2 wins 1 second 1 third
QLD City
1 second 1 third
Stakes Race Results
Group 1-1 second
Group 2-2 wins, 2 seconds
Group 3-3 wins, 2 seconds, 3 thirds
Listed-6 wins, 2 seconds, 2 thirds
Total of 11 Stakes winners and 12 placings
Prizemoney-$4.785 million
We were delighted to finish the season at number 10 in the Victorian Metropolitan Trainer's premiership and with the best strike rate at Flemington of the top 15 Trainer's, with 22.6% for winners & 45.2% placings.
This has been our best season since relocating to Victoria 7 years ago and we hope to improve on that in the coming season. We have a good arsenal of quality horses for the Spring and a lot of babies to come through. We can feel the Spring in the air!